Here is What Others Have to Say About Sweet P Poms
Click here to leave a review of your own.
---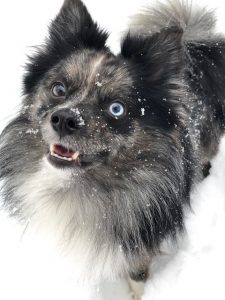 Hi, guys! Just wanted to send a pic of Trip (whom I was lucky enough to get April 2017)!
He's been the most amazing thing that has happened to me and I can't thank you guys enough!

Shannon B
---
Here is one of their first parti-poms! His name is Kojak and is 4 years old this month! We love him and he is just perfect!
Dana Z.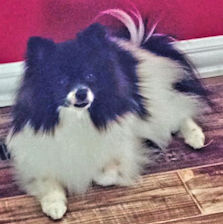 ---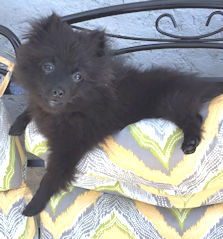 I would like to thank Sweet P Poms for my beautiful little boy Hulk, Little boy, big attitude!
I couldn't ask for a more loving dog, he is now one year and three months old.
Amber A.
Kansas City, Mo.
---
My husband and I have gotten two beautiful Sweet P Poms.
In the spring of 2015 we got our beautiful tri-coat. She was Haley Sunshine's and Chips a 'Hoy's little girl. Her name is "Marlee Claire".
In the spring of 2016, we got our little cream sable. She belonged to Kierra and Max. Her name is "Magnolia Caroline".
We love our Sweet P Poms!
Nancy and Andy P.
Mountain Home, AR
---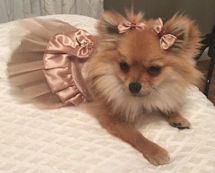 We bought our little Pomeranian Gracie from "Sweet P Poms" she has been such a blessing to us. She is such a sweet little dog. Clint and Cheri are wonderful people. They love their dogs and their dogs are well taken care of. Gracie is completely spoiled here, she gets dressed up when we go anywhere and we take her a lot of places with us. She is very well behaved. She sleeps with our daughter who she is completely attached to. She has added so much joy to our lives. I would recommend "Sweet P Poms" to anyone looking for a Pomeranian.
Thank you Clint and Cheri
Tracy B.
---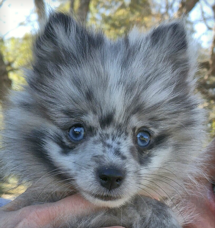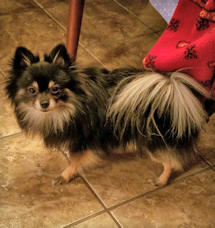 Thank you Clint and Cheri for my fur babies, Gi Gi and Annie. So blessed to know such fantastic caring breeders. Got Gi Gi (the black & tan) 1 year ago and added Annie (the blue Merle) about 1 month ago. They make an old woman happy and make life worth living.
Pat Shultz
---
Just wanted to say thank you from the bottom of my heart for the privilege of being a fur baby mama to this beautiful boy.
This is Jaxson Boone and he makes my world complete. Sweet P Poms have the most amazing puppies.
Thank You again.
Rose Yeager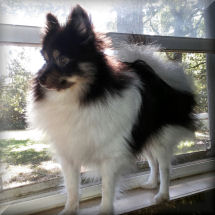 ---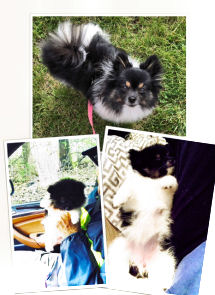 Parish's Precious Marlee Claire "Marlee" came to live with us on her 8 week birthday one year ago on Sunday 4/24/16.
I thought I'd share this in honor of her one year with us.
The baby pictures are on the way home from Sweet P Poms and her first nap in her forever home.
Marlee couldn't be more perfect in our lives. She's our princess.
Thank you for what you do, Cheri and Clint
Sending love and blessings to you.
Nancy and Andy P.
Mountain Home, AR
---
Just wanted to say thank you for the adorable puppy. His name is little Haus and my daughter and the whole family loves him.
Lisa S.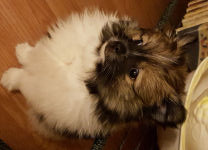 ---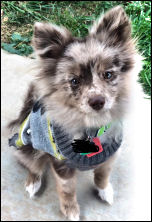 Just wanted to say hello and show you a picture of Liebe, we got him from you back in August. He is such a sweet pup that is full of energy. He loves our 2 year old. He is growing up to be such a handsome boy.
Shannon S.
---
We purchased our male dog Mogley five months ago and we already want another one! He is handsome, fun-loving, and as healthy as can be! He is very unique in color and has a great personality.
Sweet P Poms is definitely the place to get a Pom!
Katherine V.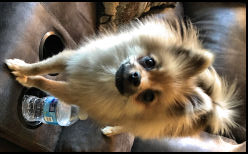 ---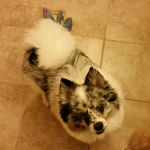 Hello! I just wanted to send a picture of Merlen. We adopted him about a year…he is simply rotten! ? Have a great day!
Kelley Z
---
It's been almost two weeks since we picked up our Marlee Claire. In that time, she's learned to chase the big white cat and to not follow Summer, the 13 year old Pom, too closely. She's also currently on a trip. We went to Michigan and are on our way home. Miss Marlee has loved being a traveling girl. Here is a picture of her on our trip. Thank you for our sweet girl. We love her so much. She's a perfect fit in our family.
Nancy P.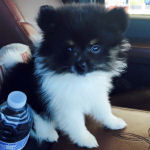 ---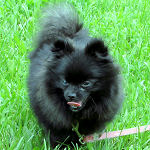 Hi I just wanted to give you an update on the puppy that we bought from you back on February 6, 2015. She was the small black female out of Lovey and Alladin's litter. She is just beautiful and perfect. She is completely potty trained and also knows basic commands and a few tricks. She is very smart and learns very quickly. We named her Shadow and she is just that too, she follows us everywhere. Thank you so much for raising such high quality puppies. I have included a few pictures of her. She is staying very tiny also, she is just under 3 pounds currently.
Brandy C.
---
My sweet Zoey!!! Just thought I would share this photo with you. I love my fur baby!!! Thank you for the WONDERFUL service!
Melissa P.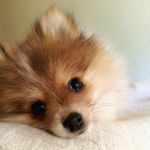 ---
Testimonials
Sweet P Poms
Average rating:
13 reviews
Jun 22, 2020
New puppu
We've been waiting a few weeks to pick up our new Pomeranian, the day finally arrived! She is as precious as her pictures and the sweetest thing! Cheri and Clint are the nicest people to work with, we are so thankful to them for raising such beautiful pups! Anyone considering a Pomeranian really needs to contact these lovely people! Thank you Sweet P Poms for providing us with such a beautiful puppy and amazing adoption process! Your the best!
Apr 15, 2019
Perfect Poms!
Wonderful people; wonderful dogs!
Oct 7, 2019
New Arrival
I just picked up my little boy two days ago. He is pottying outside, using the doggy door, sleeping all night and has totally integrated himself into the family. I have owned four other Pom's during the years and this puppy is so adaptable and smart. He is also the most loving Pom I have ever had.

I would recommend Cheri and Clint's poms in a heartbeat.
Oct 12, 2019
Beautiful Poms
I have two Sweet P Poms. They just had the most intelligent and beautiful litter of puppies. So sweet and loving little dogs. Once I put them on sale, they were all gone in a week. The people fell in love with puppies immediately.
Sep 16, 2019
Love of my life Finn
I bought Finn back in 2016. He has made me so happy. He is the sweetest and most outgoing Pom I have even owned. (I have had 4 total)

I feel extremely blessed to have him in my life. 🙂

I saw some pics of the other pups on the reviews and he looks just like one of them. It must be his brother.



Brooke
Apr 17, 2019
Hi Guys, I bought 1 of your puppies in June/July a little black baby girl (runt). I just want to thank you guys so much for doing this kind of work and for selling them at such a reasonable price. You guys just made my life! We named her Princess Priscilla, Prissy for short. I looked on the net and there is a black Princess Priscilla, so it was confirmed. She is spoiled rotten, I think everyone in Laurie knows us. I'm known as the dog lady. She has a pink pet stroller that she rides in, while in stores, even grocery stores, she is confined so it is allowed. We laugh, Dollar General calls her their mascot. She goes everywhere with me, stores, friends, craft shows, helps me make candles, even to church which was another story. That was the loudest she's EVER been and made quite a scene. Although its a toss up between church and the vets office, he calls her his drama queen, and she is. If she doesn't get her way, which is usually taken away from me, she puts on quite a show, you'd think she was being tortured. Still working on the potty training, I just can't bring myself to give her a swat for p'ing in the house. She is so active, it made us realize just how sick our other pom really was. He wasn't any where near this active, but he lived 12 yrs and he wasn't suppose to live 3-4 yrs. I just hope they were happy years that he lived, we tried to make him happy. She is a mama's girl, if she doesn't see me or if I leave her at home to make a quick run to the store. I've heard that she just cries and cries for me. And I mean cry with tears! I've only seen a dog cry with tears 1 time before and that was our 1st pom. But if I'm out of site she does. She is spoiled rotten and we love it. Thank you guys again for taking the time, and energy for raising these sweet little balls of fur. We just love ours to pieces. I'd love to get another baby, so she would have a full time buddy, brother, sister,but I'm working on my husband about that one still. Thanks guys. Hope all is well with everyone.