Here is What Others Have to Say About Sweet P Poms
Click here to leave a review of your own.
---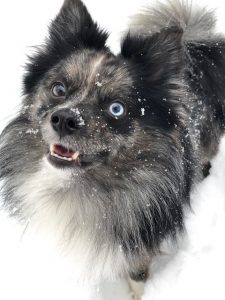 Hi, guys! Just wanted to send a pic of Trip (whom I was lucky enough to get April 2017)!
He's been the most amazing thing that has happened to me and I can't thank you guys enough!

Shannon B
---
Here is one of their first parti-poms! His name is Kojak and is 4 years old this month! We love him and he is just perfect!
Dana Z.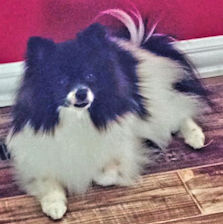 ---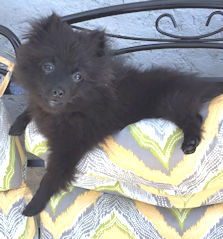 I would like to thank Sweet P Poms for my beautiful little boy Hulk, Little boy, big attitude!
I couldn't ask for a more loving dog, he is now one year and three months old.
Amber A.
Kansas City, Mo.
---
My husband and I have gotten two beautiful Sweet P Poms.
In the spring of 2015 we got our beautiful tri-coat. She was Haley Sunshine's and Chips a 'Hoy's little girl. Her name is "Marlee Claire".
In the spring of 2016, we got our little cream sable. She belonged to Kierra and Max. Her name is "Magnolia Caroline".
We love our Sweet P Poms!
Nancy and Andy P.
Mountain Home, AR
---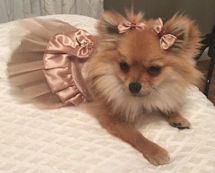 We bought our little Pomeranian Gracie from "Sweet P Poms" she has been such a blessing to us. She is such a sweet little dog. Clint and Cheri are wonderful people. They love their dogs and their dogs are well taken care of. Gracie is completely spoiled here, she gets dressed up when we go anywhere and we take her a lot of places with us. She is very well behaved. She sleeps with our daughter who she is completely attached to. She has added so much joy to our lives. I would recommend "Sweet P Poms" to anyone looking for a Pomeranian.
Thank you Clint and Cheri
Tracy B.
---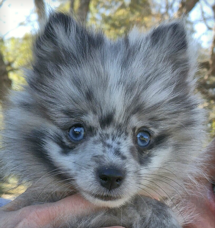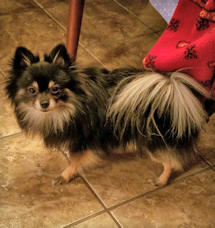 Thank you Clint and Cheri for my fur babies, Gi Gi and Annie. So blessed to know such fantastic caring breeders. Got Gi Gi (the black & tan) 1 year ago and added Annie (the blue Merle) about 1 month ago. They make an old woman happy and make life worth living.
Pat Shultz
---
Just wanted to say thank you from the bottom of my heart for the privilege of being a fur baby mama to this beautiful boy.
This is Jaxson Boone and he makes my world complete. Sweet P Poms have the most amazing puppies.
Thank You again.
Rose Yeager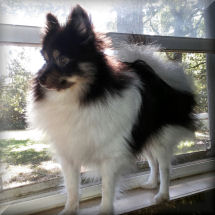 ---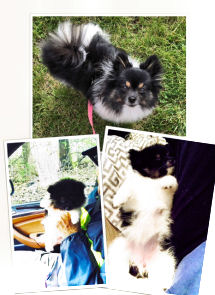 Parish's Precious Marlee Claire "Marlee" came to live with us on her 8 week birthday one year ago on Sunday 4/24/16.
I thought I'd share this in honor of her one year with us.
The baby pictures are on the way home from Sweet P Poms and her first nap in her forever home.
Marlee couldn't be more perfect in our lives. She's our princess.
Thank you for what you do, Cheri and Clint
Sending love and blessings to you.
Nancy and Andy P.
Mountain Home, AR
---
Just wanted to say thank you for the adorable puppy. His name is little Haus and my daughter and the whole family loves him.
Lisa S.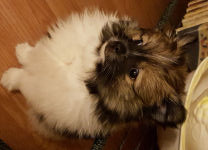 ---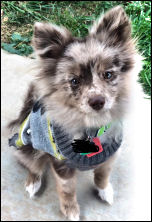 Just wanted to say hello and show you a picture of Liebe, we got him from you back in August. He is such a sweet pup that is full of energy. He loves our 2 year old. He is growing up to be such a handsome boy.
Shannon S.
---
We purchased our male dog Mogley five months ago and we already want another one! He is handsome, fun-loving, and as healthy as can be! He is very unique in color and has a great personality.
Sweet P Poms is definitely the place to get a Pom!
Katherine V.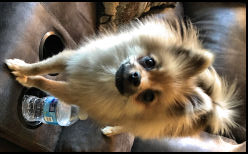 ---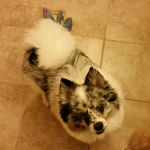 Hello! I just wanted to send a picture of Merlen. We adopted him about a year…he is simply rotten! ? Have a great day!
Kelley Z
---
It's been almost two weeks since we picked up our Marlee Claire. In that time, she's learned to chase the big white cat and to not follow Summer, the 13 year old Pom, too closely. She's also currently on a trip. We went to Michigan and are on our way home. Miss Marlee has loved being a traveling girl. Here is a picture of her on our trip. Thank you for our sweet girl. We love her so much. She's a perfect fit in our family.
Nancy P.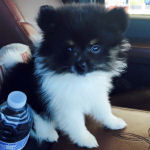 ---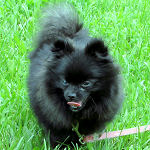 Hi I just wanted to give you an update on the puppy that we bought from you back on February 6, 2015. She was the small black female out of Lovey and Alladin's litter. She is just beautiful and perfect. She is completely potty trained and also knows basic commands and a few tricks. She is very smart and learns very quickly. We named her Shadow and she is just that too, she follows us everywhere. Thank you so much for raising such high quality puppies. I have included a few pictures of her. She is staying very tiny also, she is just under 3 pounds currently.
Brandy C.
---
My sweet Zoey!!! Just thought I would share this photo with you. I love my fur baby!!! Thank you for the WONDERFUL service!
Melissa P.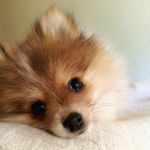 ---
Testimonials
Sweet P Poms
Average rating:
24 reviews
May 24, 2021
Levi Says Hi
We want to thank Cheri and Clint for our wonderful new mate Levi. He is growing fast and loves every person and animal he meets. We have totally bonded and training is getting better by the day. We can't thank you enough for our new family member. Cheers from Levi!!!
Jun 16, 2022
Kiki & Koko (sisters)
Hello,

We love our pups! It's been just over three weeks, but it seems like we've had them longer than that! They are busy girls and we are having a lot of fun watching them play. They run around like crazy, wild animals in the backyard and they love playing keep away with anything they can find. They play hard and then they sleep hard. We laugh and laugh at all their antics! They each weigh about 4 and a half pounds now. We are so happy to have them as part of our family

Thanks,

Jenny and Steve
Oct 6, 2020
Our little boy Blu
Hi Cheri, 

My family just wanted to say thank you for our perfect Pom! The girls are in love with Blu! I think you'll be hearing from me soon for another one in the future. 

Thanks again,

Nu
Dec 27, 2021
Bear
My black & tan boy Bear was born on 4-14-2021 to Ebony & Little Joe at Sweet P Poms. Bear is a joy to me. He is myconstant companion. Bear is very social. We walk 2-4 miles around our neighborhood almost everyday. I have met more neighbors in the past 5 months that I've had Bear than I have in the past 30 plus years that I have lived in this neighborhood. If anyone is outside when we're walking, Bear thinks he has to stop to meet them. Of course that goes both ways. As soon as a neighbor sees him they fall in love. He is quite a charmer and will steal your heart in seconds. He loves all people but he is really drawn to kids.

He is so smart! I had him trained to a puppy pad in just a couple of days. He has an understanding of many, many words & commands. He probably has an understanding of more commands than I realize. I think he chooses to gnore them.

I couldn't have asked for a dog with a better temperament. He is a really good natured dog. I enjoy him very much and am so glad I got him. You guys do a great job breeding and producing wonderful companion dogs.

Thanks again for Bear!
Dec 26, 2021
Venture
Venture has really been a blessing since lost my beloved pom, Boo, 12/21/20. He is the most loving pom of the 4 poms I have had. My only problem is he has an attitude. He doesn't like for me to go out of house without him. He loves to sit in my lap and give me "mommy love". Thank you Cheri
Sep 27, 2020
Best boys ever ❤️
I have two Sweet P Poms. Joey and Jace. Born June 2019 to Mary Kate and Clyde. They are sweet, happy brothers who love to play. They are beautiful Pomeranians. They are on the bigger side, nearly 18 lbs each! If I decide to get them a sister I'll be heading back to Sweet P Poms!
Jun 22, 2020
New puppu
We've been waiting a few weeks to pick up our new Pomeranian, the day finally arrived! She is as precious as her pictures and the sweetest thing! Cheri and Clint are the nicest people to work with, we are so thankful to them for raising such beautiful pups! Anyone considering a Pomeranian really needs to contact these lovely people! Thank you Sweet P Poms for providing us with such a beautiful puppy and amazing adoption process! Your the best!
Apr 15, 2019
Perfect Poms!
Wonderful people; wonderful dogs!
Oct 7, 2019
New Arrival
I just picked up my little boy two days ago. He is pottying outside, using the doggy door, sleeping all night and has totally integrated himself into the family. I have owned four other Pom's during the years and this puppy is so adaptable and smart. He is also the most loving Pom I have ever had.

I would recommend Cheri and Clint's poms in a heartbeat.
Oct 12, 2019
Beautiful Poms
I have two Sweet P Poms. They just had the most intelligent and beautiful litter of puppies. So sweet and loving little dogs. Once I put them on sale, they were all gone in a week. The people fell in love with puppies immediately.